Restaurant Vouchers
Restauration Kopernikus vouchers can be ordered online and paid with PayPal, Bank Transfer or Credit Card.
If you order online you will receive the voucher directly via e-mail and you will need to print it.
Currently we offer 3 different vouchers. With the gift voucher you can choose the value. The minimum amount is € 15. We also offer a schnitzel and a food voucher. With these vouchers a meal is included and 2 drinks of your choice. The schnitzel voucher costs 16.- € and the food voucher costs 19.- €.
Gift vouchers
Schnitzel vouchers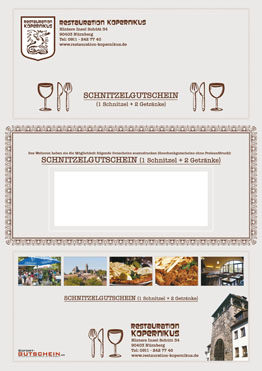 Food vouchers