Restauration Kopernikus - Restaurant in Nuremberg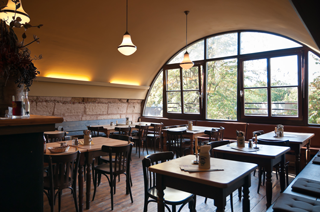 The Restauration Kopernikus offers an attractive combination of traditional Franconian food and original Polish specialties in the unique historical atmosphere of Krakow's tower in Nuremberg!
Good food, great parties, enjoy life !!
The Frankish Polish restaurant in Krakow's Tower is a special place in Nuremberg's old quarter. Life can be enjoyed here especially in the evenings. With 70 seats, the restaurant invites you to a cosy dinner or even for a wonderful event celebration. The Frankish way of life combined with Polish fun create an exciting mix of charm and hospitality. Whether individual, a couple or even better in a large company - for each guest, the restaurant in the Krakow Tower is a special experience that goes far beyond a simple culinary offering. Food can be tailored to a private setting or a special event by contacting and discussing with our friendly staff.
A meeting place for Europe
The Kopernikus Restaurant in the Krakow Tower is a popular meeting place for travelers and tourists from around the world as well as locals. The central location in Nuremberg's old town and the special Polish Frankish connection make the restaurant a delightful destination for an uncomplicated experience of European lifestyles and traditions. This is where not only German and Polish gather, but also many other nationaltities.
With typical Franconian cuisine, complemented with Polish specialties, the atmosphere is international. The tasty Franconian beer or the delightful Polish lager loosens one`s tongue and gives rise to a wonderful atmosphere. The restaurant Kopernikus in the Krakow Tower fosters not only German-Polish friendships but always remains a meeting place place for all Europeans.
We look forward to your visit and extend you a very warm welcome - Serdecznie witamy!